Nevada DUI Penalties | Consequences of Drunk Driving in Nevada : Jail Time, Fines, License Suspension
First Nevada DUI:
Imprisonment: 2 days - 6 months, or minimum 96 hours community service
Fines: $400 - $1200
DUI School: 8 hour DUI school requirement
Victim Impact Panel: Attendance required
Driver's License Suspension: 90 days. Restricted work/school license available after 45 days
Ignition Interlock Device: May be required for 3 - 6 months
Second Nevada DUI:
Imprisonment: 10 days - 6 months
Fines: $600 - $1,200
Driver's License Suspension: 1 year
Third Nevada DUI (Felony):
Imprisonment: 1 - 6 years
Fines: $2,000 - $5,000
Driver's License Revocation: 3 - 5 years
---
Nevada DUI Laws - Relevant Statutes
Nevada Revised Statutes
Title 43 Chapter 484C Driving Under the Influence of Alcohol or a Prohibited Substance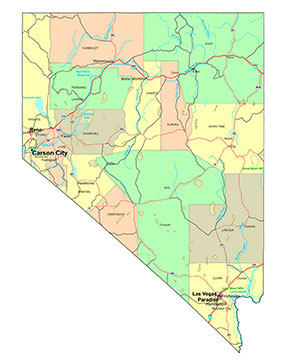 The skilled Nevada DUI lawyers on this site can help you with all aspects of your drunk driving arrest including: further information on DUI penalties, fines, and consequences, administrative driver's license suspension or revocation, Under 21 DUI Drunk Driving and Zero Tolerance Laws, SR-22 insurance, DUI School, Mothers Against Drunk Driving (MADD) Victim Impact Panels, how to beat a DUI, Ignition Interlock Devices, SCRAM Continuous Alcohol Monitoring Device, DUI Expungement, DUI Diversion, Community Service, and all other issues surrounding your Nevada Drunk Driving DUI Arrest.
Nevada DUI Attorneys can help fight for your Rights following a DUI arrest in Enterprise, Henderson, Las Vegas, North Las Vegas, Paradise, Reno, Sparks, Spring Valley, Sunrise Manor, or anywhere else in Nevada.