Maine DUI Penalties | Consequences of Drunk Driving in Maine : Jail Time, Fines, License Suspension
First Maine OUI:
Imprisonment: None
Fine: $400
Driver's License Suspension: 90 days.
First Maine OUI with Aggravating Factors:
In Maine, aggravating factors include: BAC of .15 or more, travelling 30 mph or more over the speed limit, attempting to elude an officer of the law, having a passenger under 21 years of age. The law requires an additional 275 day suspension be imposed by the court or Secretary of State if transporting a passenger under 21. The minimum court imposed penalties for a Maine First OUI with Aggravating Factors are:
Imprisonment: 48 hours
Fine: $400
Driver's License Suspension: 90 days
Second Maine OUI:
Imprisonment: 7 days
Fine: $600
Driver's License Suspension: 18 months. (A second conviction within 10 years prohibits the offender from getting a work-restricted license or from registering a vehicle.)
Third Maine OUI:
Imprisonment: 30 days
Fine: $1,000
Driver's License Suspension: 4 years
Fourth or Subsequent Maine OUI:
Imprisonment: 6 months
Fine: 2,000
Driver's License Suspension: 6 years
---
Maine DUI Laws - Relevant Statutes
Maine Revised Statutes
Chapter 23 Major Offenses-Suspension and Revocation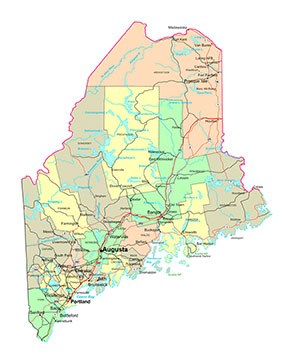 The skilled Maine DUI lawyers on this site can help you with all aspects of your drunk driving arrest including: further information on DUI penalties, fines, and consequences, administrative driver's license suspension or revocation, Under 21 DUI Drunk Driving and Zero Tolerance Laws, SR-22 insurance, DUI School, Mothers Against Drunk Driving (MADD) Victim Impact Panels, how to beat a DUI, Ignition Interlock Devices, SCRAM Continuous Alcohol Monitoring Device, DUI Expungement, DUI Diversion, Community Service, and all other issues surrounding your Maine Drunk Driving DUI Arrest.
Maine DUI Attorneys can help fight for your Rights following a DUI arrest in Bangor, Portland, or anywhere else in Maine.